My heartfelt thanks go out to Monica and Phillip, two fabulous paramedics, who came to the rescue yesterday when I (for the first time) had to dial 999 for my husband Den. They were with us within 15 minutes. I was absolutely amazed at their efficiency, skill, knowledge and how they were able to patch their computer, with all their readings, straight through to Bournemouth hospital. The doctor at the hospital had Den's file and was able to see that this new ECG reading was different to the one that Den had in December 2017 and to give instructions that it was Bournemouth hospital where he must go and not Poole. Den was in Bournemouth hospital 22 years ago with his first heart attack. It was a gruelling 8 hours yesterday, but he is in the best place and so far, from the blood test results,  they have found that his enzymes are elevated, which indicates a heart attack, but we will know more today when the cardiologist has examined him.
My heartfelt thanks also go to my youngest son Jamie, as he took charge of the situation and was able to pull Den up, as he was out of it for 10 to 15 seconds. If he hadn't, then Den could have drowned in his own vomit.
It was such a beautiful morning yesterday and I had been up early, gathering dew for the first time. Little was I to know how the day would progress. I will share with you the photos I took.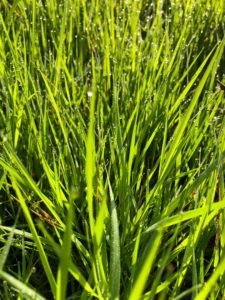 The morning dew is just like little diamonds but you have to be up early to catch them!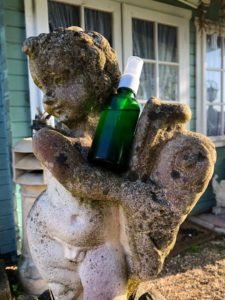 And here is the morning dew charging up in the beautiful sunshine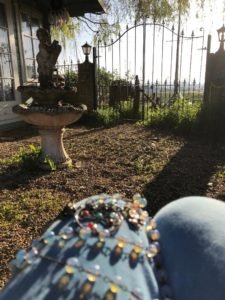 Time to meditate with my Goddess beads. Who could ask for more. Beautiful morning and with Wren singing in the Willow tree and Crow calling in the distance.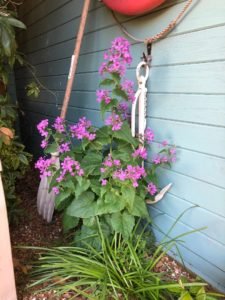 The beautiful purple Honesty in full bloom outside the healing cabin.
The Featured Image at the top of this post is the beautiful wild garlic and bluebells that I am blessed to have in our garden. I have checked out the healing properties of wild garlic and this is synchronicity again – it can help improve heart health. Wild garlic is known to have a soothing effect on high blood pressure, which can lessen your risk of heart attacks and strokes. Furthermore, wild garlic is able to lower overall cholesterol levels, keeping your heart in good shape as you age.
On a final note, even if you have bad days, always try to say "I love you" to your loved ones. It's too late when you can't.
Blessed Be