Firstly, I must apologise for not getting this blog out sooner, however when I get home from work I have been lost in my thoughts and memories. It has been a hard week, but then I knew it would be.
I want to thank all of you who sent cards and flowers and for those of you who came along on Sunday 10th March for Den's Celebration and their kind donations to Marie Curie and the RDG Association. No one could have got that many people into our house but Den. It was fabulous to see so many people. I don't think we will see the like of that again in our family. It was just a perfect day with Den's spirit there and saying "I've bought that one off". You raised a fantastic £282.15 for Marie Curie and £60.72 for the RDG Association. Thank you.
A BIG thank you to Susan for her organisation of the galley and Fay for manning the refreshments. BIG thanks to Willow for supporting me throughout the Ceremony, for Jaq's support and for Natasha's drumming. Den loved that.
Big thanks also to Alan, Mick and Roy (representing St Mellion – Den's Mother Lodge and Amity Lodge) who facilitated the Eulogy for Den at the Harbour View Lodge on Monday 11th and for Gilbert who peformed the Cavalry Last Post and Reveille on the verandah. The music was so emotional and resounded over the countryside. Big thanks also to Meg at Regimental Headquarters in York and Graeme representing the Regiment on Monday, for organising the Regimental flag over Den's coffin and the Regimental Wreath. We finished the ceremony with Fare The Well Inniskilling (Den's Regimental march) from Hear It In Colour. Den played the E Flat Base when the band recorded the LP. There are not many people who can say they played at their own funeral! A perfect intimate send off.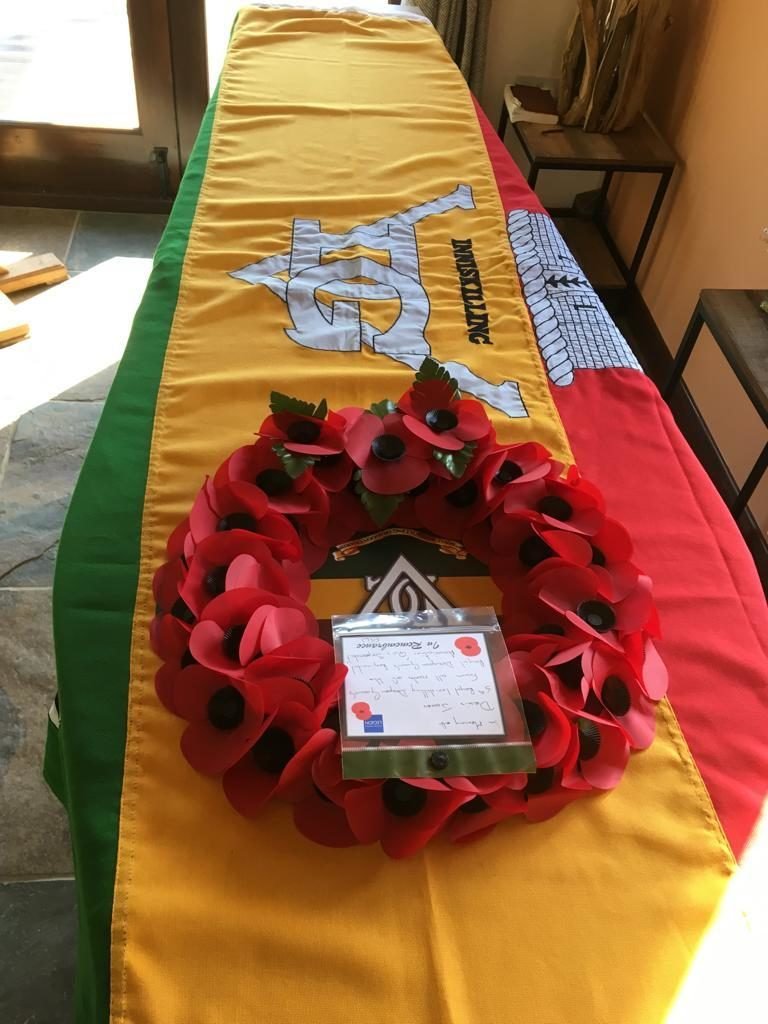 In the words of Johnny Walker, Oxford Division, "A true Dragoon. Rest in Peace Dennis. Your duty done. Fare Thee Well."
Blessed Be