Thank you soooo much Fay Tucker for sending me photos of the Morgen La Fey Retreat in February. I must learn to take my camera with me on the next Retreat! The focus was on the energy of Morgen Thitis, Willow Woman, spending Day One at the lake, soaking in her energy. Willow Woman with her spark of life!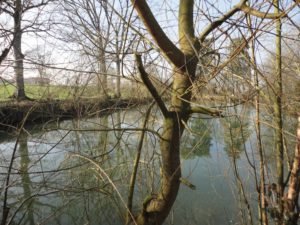 Although freezing cold, we were blessed with clear blue skies and the carp enjoyed a veritable feast!
Fabulous photo Fay! The reflection is incredible!
On Day 2 we visited the Petit and Grand Cascades. Morgen Gliten in all her glory! Guardian of the Sacred Springs, Wells and of course – Waterfalls!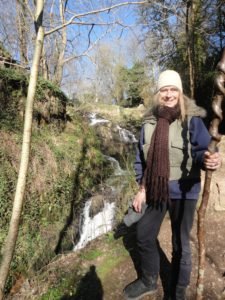 Finishing off with a visit to the Petit Chapel. When the visibility is good you would be able to see Mont St Michel on the horizen, above Fay's right shoulder. It's hard to believe, in the stillness and beauty,  that there could have been so much fighting and lives lost to keep control of this high point during the World War II Contra Attaque in August 1944.
Then back to La Haiz Allmin for Fay's Morgen La Fey Healing
More photos to come as the Wheel of the Year turns.
Blessed Be