Last night, we celebrated the New Moon in Gemini, which was also a Super Moon, when the Moon is closest to the earth.  It is a powerful time to re-connect and re-focus ourselves in line with our authentic selves especially for those who have been living in chaos. We started with a walk on the land, honouring the energy of Morgen Gliten and connecting with Oak Woman. One of the Oak trees on our walk was just like a cradle.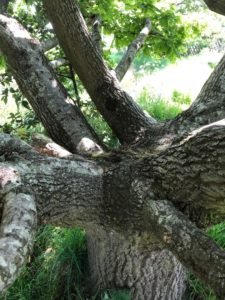 On the way back Natasha and Celia were fascinated by the fresh green cones on a Fir tree, which were sticky and highly scented.
Then back the Healing Cabin to do Meditation and the New Moon Ritual.
Fabulous evening with fabulous ladies!
Blessed Be
ps don't forget to re-set your manifestation grids