What a fabulous afternoon we had on Tuesday 31st July 2018 with our first Walk on the Wild Side.  My thanks to Stephanie and her two little girls Eva and Phoebe and Stephanie's Mum with Ruben and Olympia, for making it such a great walk and such fun, while learning on the way!
Eva and Phoebe found my favourite Oak Tree.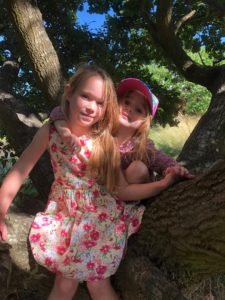 And when we got back, Stephanie and her Mum both felt that everyone was a winner, so there were sweets and lollies all round with strawberries and cream for the adults.
Stephanie has allowed me to share her feedback. "Thank you for your lovely wild walk today Heather, my girls really enjoyed themselves, especially Eva. She has always enjoyed walking amongst nature and loves flowers, it was a joy to watch her being involved."
Blessed Be