7 am this morning, and Knowlton Church all to myself. The sun was shining, the birds singing and the crows calling. Who could wish for anything more. This was my first visit to this place, but when I entered the sacred space, it felt like I had been there before. Intuitively, I took my shoes off. I was going to walk around the henge, but then it was like I knew where I had to enter.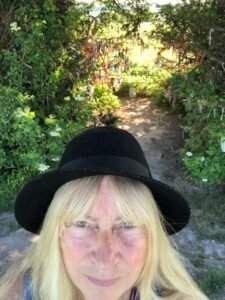 And those two beautiful yew trees with all their wishing ribbons blowing gently in the breeze. After leaving my offerings of bird seed and meal worms, I meditated there a while, in between the two yews and drew a fairy card, which was Laughter. I guess we all need a bit of that at the moment. And something I wasn't expecting there – Elder flowers.
When I told my friend Liana that my niece Karrie,  had given me a bottle of Elder Flower Champagne she had purchased at Helston Farmers Market, Liana told me how easy it is to make it. So I foraged for the flower heads to make the champagne.
Before I left Knowlton, I walked the henge and by that time, two other visitors had arrived, so I knew it was time to go.
Back home, I made my Elder Flower Champagne and can't wait to taste it.  Got to be patient though, as it takes several weeks!
Love and hugs