Mother Nature never ceases to amaze me. I have an absolute abundance of Queen of the Night buds at the moment.  Sadly I lost 22 that decided not to come into this realm. But I cannot count how many are actually going to flower. It's unbelievable!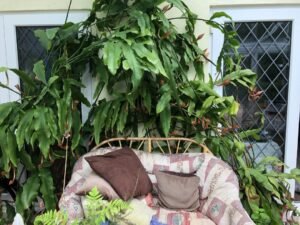 Many of you may know that Christiana (Floss) – my son's partner for over 30 years, passed on 26 June. Her funeral is tomorrow, the 8th July, and it was Floss and Paul who gave me my two baby Queen of the Night plants. How amazing that they should be in bud at this time. Christina adored them.
I chatted with a few of the buds last night, saying how wonderful it would be if some of them could flower for Floss for the 8th, for her funeral.  Watch your words (as Dolores Cannon says) because when I came home from work this evening, I found the house full of the beautiful perfume of musk. And then,  I couldn't believe my eyes when I saw 8 Queen of the Night flowers in full bloom, proving to me that everything has a consciousness and everything is interconnected. Each one received their lullaby. "Queen of the Night, Lunar Light, Bathe my Soul Tonight, In Virtue, Truth and Serenity, Let my Heart be One with Thee".
Synchronicity. 2 plus 6 is 8. The funeral is the 8th and there are 8 flowers in bloom. The sign of infinity. The Soul never dies.
Blessed Be Floss on your next journey.