Den and his friend Tony ended up in the same ward which was their wish, however having the open heart surgery on the same day was not to be. Den had his triple bypass on Thursday 25th May (Day Zero) and Tony had his valve replacement on the following Wednesday and as I write, Tony is recovering well in rehabilition in Fordingbridge.  The two guys have forged such a bond and speak to each other regularly.
The worst part for me on the 25th was saying goodbye to Den at the theatre doors. It was only then I realised how much I had been bottling up inside, by keeping positive and up beat all the time for Den. I went back to Heartbeat House (where I was staying) and just cried and cried. Heartbeat House was my sanctuary for 5 days. I had a room there and there was fabulous kitchen and lounge facilities and a beautiful garden. It was also a place where I could talk with like minded ladies, going through exactly the same worries and concerns as I was.
The operation took 3 hours and Den was admitted into Intensive Care at 12.15 pm. By 12.30 pm I was allowed to see him. By that time my son Paul and his partner Floss had arrived which was a big surprise for me. It was a bit of shock to see so many wires and tubes coming out of Den and a huge pipe in his mouth, pumping oxygen into him. Den's one to one nurse was Marcus and he was absolutely fabulous! Explaining to me that he would keep Den in an induced coma for probably about 5 hours, depending on how well he was responding. He also talked me through the computer readings.  Intuitively, I passed on this information to Den (although asleep), giving him positive feedback all the time and telling him how well he was doing. At about 3pm Den opened one eye and started moving his arms to which Marcus responded "No Dennis we don't want you waking up just yet" and sedated him back to sleep. By 5 pm, Marcus brought Den out of the coma with Paul and myself by his side. I had kept my promise – to be with him when he went through to theatre and to be there when he opened his eyes.
One of the side effects of the oxygen pipe is the collection of fluid in the lungs and apart from the operation pain, coughing up the fluid was one of the most painful things for Den. He started doing that not long after he woke up and Marcus had to use a dentist suction pump to clear the fluid from Den's mouth. Den didn't like that at all and opened his eyes wide and clenched his fist, to which Paul said "Dad's back!".
The next morning at 7.30 am I was expecting to see Den still in bed and was so surprised to see him sitting up. Here are a couple of photos.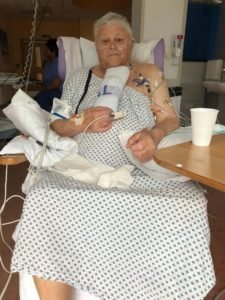 Den was doing so well that at 12.30 pm on Day 1  he was moved back to E3.
Here he is on Day 2
Here he is on Day 3. This was the day the surgeon said he could go home the next day and when he had his cathetar removed. In all this journey I know that Shamanic Willow has been sending Morgen healing and every morning I was connecting with the Morgens too. For those of you who don't know, the Morgens shapeshift into crows and when I arrived to see Den on Day 3 he told me that just as the nurse was about to remove the cathetar, a crow flew past the window cawing.  He looked at the Crow and at that same moment, the cathetar was removed. Den is convinced she came along to distract him from the pain.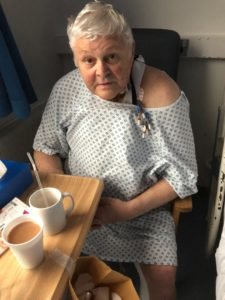 Here he is on Day 4 waiting for his discharge papers. Raring to go home! Patience is not one of his virtues!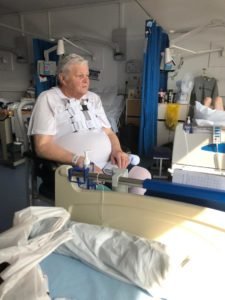 And here he is back home in his mobility chair which acted as his chair and bed for the next few days. But Lunar had to check it out first.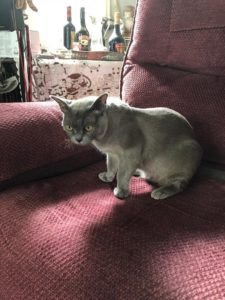 Johnny, who was a fabulous nurse at the hospital, said that in all his 25 years of nursing, he has never known a diabetic with open heart surgery, be discharged on Day 4.
Thank Goddess all went well.  Blessed Be