I expect you have all been wondering what has happened to me over the last month. Life has been a real roller coaster and to be honest, I feel absolutely knackered! Den ended up 17 days in Bournemouth Hospital and I have included some photos of the eventful day when both Den and his friend Tony were transferred (on the same day) to Southampton Hospital. The NHS could have saved so much money if they had cut some of the red tape and for example, transferred Den and Tony in the same ambulance. Anyway, Tony was transferred first at 2 pm and here is a photo.
Den was transferred at 4 pm.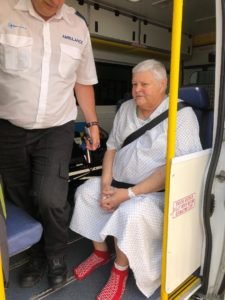 I left Den in the ambulance and drove to Poole station where I caught the train to Southampton. While on the train, Tony called me as he was concerned Den had not arrived at Southampton and this was about 4.30 pm.  When I got to the hospital, Den had just arrived. It turned out that the ambulance went into "get you home mode" and they had to stop while it sorted itself out. Den and Tony were eventually re-united on E3.  They had always said they would be transferred on the same day! By the way, their dear friend Graham eventually got discharged and he remains in regular contact with us and he is doing fine.
Blessed Be.