My dear friend and neighbour, Laura and I had an absolutely fantastic day at Rory Duff's Harmony Time Gathering in Wiltshire. For those of you who have not heard of Rory Duff, he is a world famous dowser, geobiologist and author of books on the subject.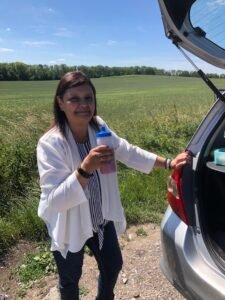 This Harmony time started at noon on 20th June 2022 and is likely to last for around 16 – 17 days. This means meditation at any time on a symmetrical node is going to mean meditating in a vortex ring during those days. If everyone does the same, at midday in their own time zone, it sets up a wave of positive energy being brought into the World.  There were many groups around the world gathering at the same time as us,  and next year my land and lake at La Teillueil in France, will be another gathering to add to the list, where like minded people can gather at the Harmony Time.
Today was also the confirmation of the levitation experience I had at my friends' stone circle in Cornwall.  It is all to do with getting in close proximity to a Node. This was also a time to make new friends with Sue who had travelled all the way from beautiful Derbyshire (which I know so well from my time working for Canada Life).
I have been told before about these Sacred Places having a Procession route and that was discussed today. Montol in Penzance Cornwall (at Samhain) made so much sense and so many things fell into place today. Laura took a photo of Sue and I walking along the Procession route from the Sacred Place.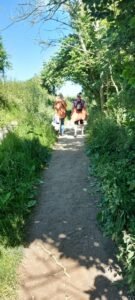 Thank you Rory for organising such a magical experience. So looking forward to my survey report!
So Be It