It's a while since I have contacted the "outside" world, however life has been so hectic this summer, balancing work, a trip to France and my various trips to Cornwall. It is my latest trip to Cornwall that I am writing about.
Being one of those people who takes photos rather than being photographed, I decided it was time I had a photo shoot and what better place than magical Cornwall and what better time than my 71st birthday. My dear friend Sally Brown who was born and bred not far from Madron, jumped at the opportunity to photograph me at her "special" place.  It truly is a magical place.  You can just "feel" it. We were undisturbed the whole time the filming took place (just as well as I had three dress changes!) and it was only when we were leaving the woods that we met up with a "sister" Jackie and her partner.  We instantly connected and she told me that the site is not only a magical holy well but, legend has it, that King Arthur and Merlin went there.  Synchronicity again!  In my soul reading with Shirley Battie, I was told that in a past life I had worked with the Merlin energy.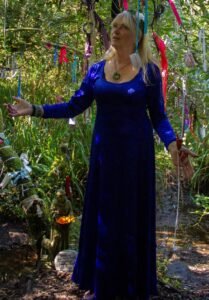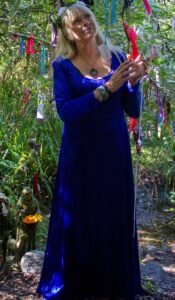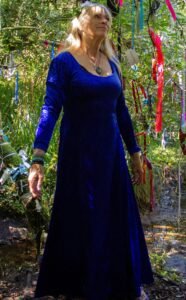 The holy well has a Cloutie or Ritual tree and the well is alleged to heal many ailments. A piece of material from the sick person is ripped off, soaked in the healing waters of the well and then tied to the Cloutie tree.  As the material disintegrates, so does the ailment.
Since the visit, I have conducted my own research.  Madron means Mother Of All and comes from the great Goddess Ma which then mutuated into the Fairy Queen Mab. It is said that Ma was then later known as Madron. I suddenly felt a connection here.  Like something I had stumbled across before. So I consulted my book The Dark Goddess – Invoking the Morrigen and low and behold there is a chapter on Modron and and the corruption of the word to Madron and the connection to Morgen La Fey. Synchronicity again!
As you walk from the Holy Well to the ruins of the Celtic Chapel (which incidentally was built on a Pagan site) you walk along a narrow path lined with tall blackthorn and hawthorn trees.  I have never seen ones so tall. After spending some time at the ruins, we walked along a narrow path edged with such tall trees.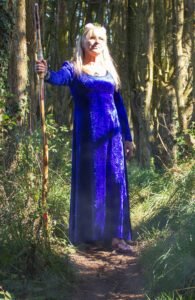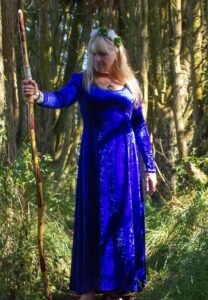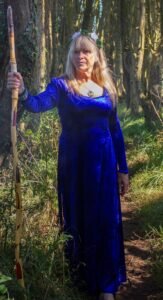 You really get a feeling of how ancient this magical place is and completely unspoilt.  Just like you are in another dimension, another timeline, stepping back into the past of our ancestors.